Proving Success:
A Sports Management Company We Helped
Hear It from Our Clients: Real-Life Success Stories and Testimonials
CROSSOVER SPORTS - A RECREATIONAL SPORTS ORGANIZATION, HAMILTON, ONTARIO
Case Study: Improving Online Visibility For
Crossover Sports
Crossover Sports, a sports recreational company, approached our team with the goal of improving their online visibility and increasing conversions. As a relatively new player in a saturated marketplace, they knew that SEO would be a critical component of their strategy.
We began by conducting a comprehensive technical audit of their website, which revealed several issues that were holding them back. We identified several areas of their website that needed improvement, including slow page load times and poor mobile optimization. We addressed these issues by optimizing images, compressing files, and implementing a responsive design that looked great on all devices.
Next, we identified the most relevant keywords for the sports recreational industry and created a targeted strategy to improve Crossover Sports' search engine rankings for those keywords. This involved extensive research to determine which keywords their target audience was using to search for products and services in their industry. We optimized the client's website content, including meta tags and descriptions, to improve their visibility in search engine results pages (SERPs).
As a result of our efforts, Crossover Sports experienced a significant increase in website traffic and leads, ultimately leading to an increase in conversions and revenue. By combining technical audits with targeted keyword optimization, we were able to help Crossover Sports stand out in a crowded marketplace and achieve their business goals.
If you're ready to see the impact a different SEO agency can have on your brand, let's talk!
Excellent Performance
Numbers and Results
Upon first inspection and analyzation of this website, it became apparent that no SEO efforts had been implemented. There were no title tags, meta descriptions, or header tags present on the site. The content was also lacking in relevant keywords, making it difficult for search engines to understand what the website was about. Additionally, there were several technical issues, including slow page load times and poor mobile optimization.
Overall, the lack of SEO on the website was hindering its visibility in search engine results pages (SERPs) and preventing it from attracting targeted traffic and potential customers.
A full res-design and SEO overhaul was implemented, and the results were stunning.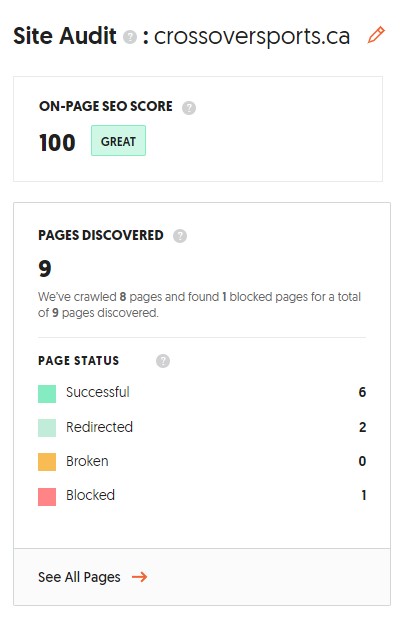 CAN WE HELP YOUR BUSINESS?
Harness the Power of SEO: Improve Your Search Presence with Our
Expert Help
LucentSEO has a proven track record of success in improving website SEO for numerous companies across a range of industries.
We have the expertise and knowledge needed to identify and address technical issues, optimize content for relevant keywords, and build high-quality backlinks that drive traffic to your site. With our help, your company can improve its online visibility, attract more visitors, and achieve its business goals. Let us show you how we can help your company improve its website SEO today.
Maybe we can help your business too?